Fitness Quest Physical Therapy-Port Charlotte
Port Charlotte Office
Call 1-941-743-6700
Fax 941-743-6707
1649 Tamiami Trail
Unit 1A
Port Charlotte, FL 33948
Hours of Operations
Mon – Fri — 8:00am – 5:00pm*
Saturday — Closed
Sunday — Closed
*Early and Late hours may be available upon request.
Fitness Quest Physical Therapy-Port Charlotte
About Our Location
Fitness Quest Physical Therapy in Port Charlotte. We opened the doors of our Port Charlotte clinic originally in November of 2007. Throughout the years we have grown and have now expanded our practice to service the Charlotte County Fire and EMS with their new Wellness-Fitness Initiative.  With a combined 35 years of therapist experience, we are dedicated to continuing to provide excellent care to our patients. We treat a wide range of conditions, such as running injuries, Balance and Vestibular, Post-Surgical, Cervical, Thoracic & Lumbar conditions, and Fall Prevention. If you do not see your condition listed contact our office and we will be happy to answer your questions. Our office is now located in the Murdock Medical Park in Port Charlotte off of Tamiami Trail, just south of the Port Charlotte Town Center. Come see us when you are in need of Physical Therapy and reside or work in the Port Charlotte area.
Director: Phillip Lagamma, DPT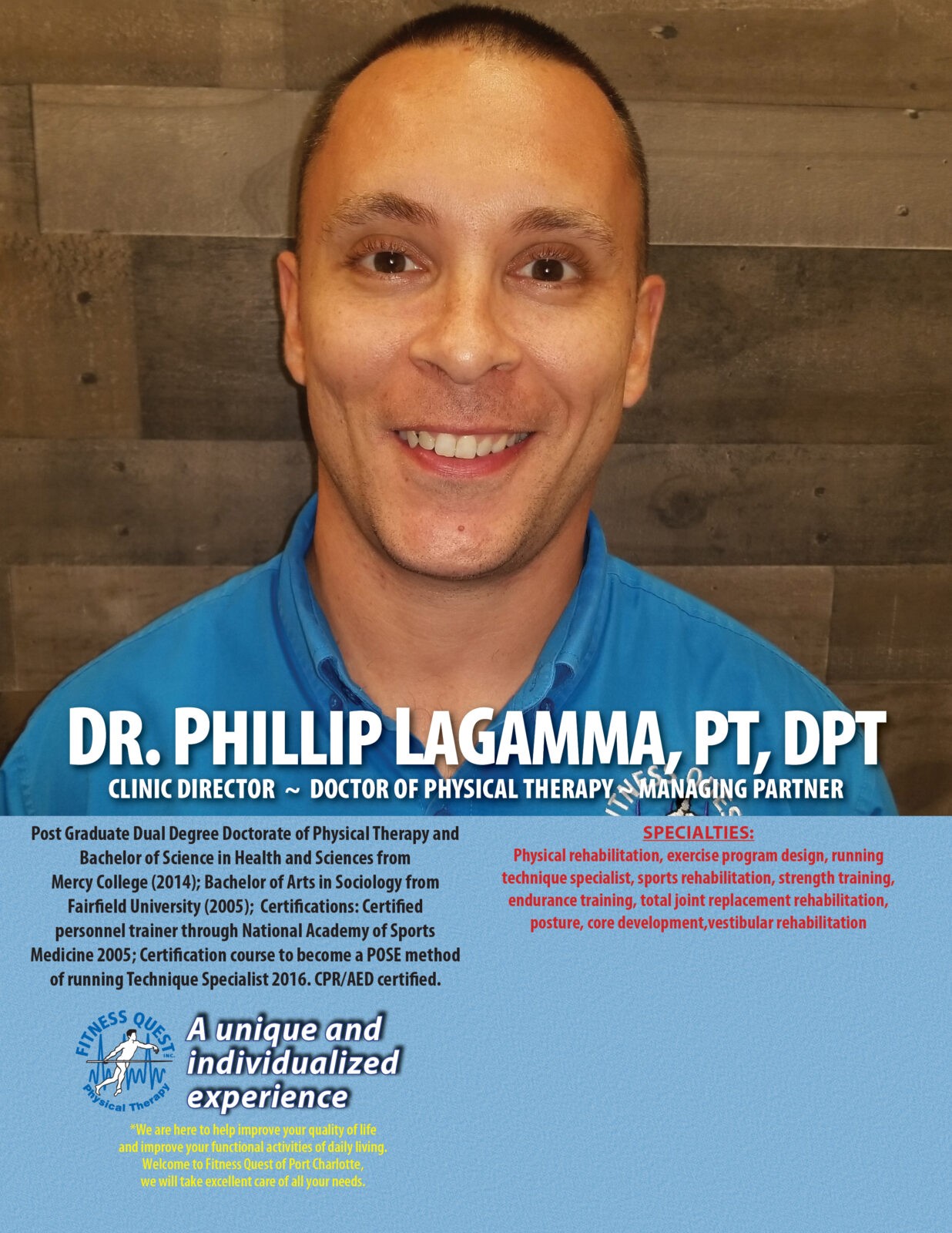 About Our Director
Dr. Philip LaGamma graduated from Mercy College in 2014 with a dual degree consisting of a B.S. in Health and Sciences and his Doctorate in Physical Therapy.  Prior to his graduating Mercy College, Philip attended Fairfield University and received his B.A. in Sociology.  After graduating college in 2005 Philip became heavily involved in the personal training field and worked as a Personal Trainer for 10 years, prior to starting his Physical Therapy career.  During his time as a personal trainer Philip met his wife Samantha and together they achieved their dreams of becoming health professionals together.  Philip and Samantha married in 2014 in New Rochelle, New York and began their respective careers as health care professionals shortly after.  In 2017 Philip and Samantha moved to Punta Gorda, Florida to become close to family.
Philip has always been involved in sports, growing up he played baseball and hockey during high school and in college his love for sports shifted toward a love for fitness.  Philip has always loved helping people achieve their fitness goals and that love for helping people has followed him into his Physical Therapy career.  Philip loves treating post surgical, neck, back, shoulder and hip injuries but his favorite is athletic related injuries.  While working as a Physical Therapist in New York Philip became a certified running technique specialist through the POSE method of running and became involved in treating athletes attending PACE University helping them return to their peak physical performance.