Fitness Quest Physical Therapy-Englewood
Englewood Office
Call 1-941-474-2700
Fax 941-474-8081
2828 S. McCall Rd
Suite 25
Englewood, FL 34224
Hours of Operations
Mon – Fri — 8:00am – 5:00pm*
Saturday — Closed
Sunday — Closed
*Early and Late hours may be available upon request.
Fitness Quest Physical Therapy-Englewood
About Our Location
Fitness Quest Physical Therapy in Englewood, Florida is located in the Tiffany Square Plaza, at the intersection of San Casa Drive and S. McCall Rd (SR776).  We opened our doors in 2013 but with the rapid expansion of our patient volume we were in need of a larger space.  In January of 2018 we relocated into a much larger, state of the art facility in the same plaza, allowing us to maintain the convenience for all of our current and former patients. If you are in need of physical therapy come see one of our amazing therapists at Fitness Quest Physical Therapy Englewood!
Director: Joseph Reilly, DPT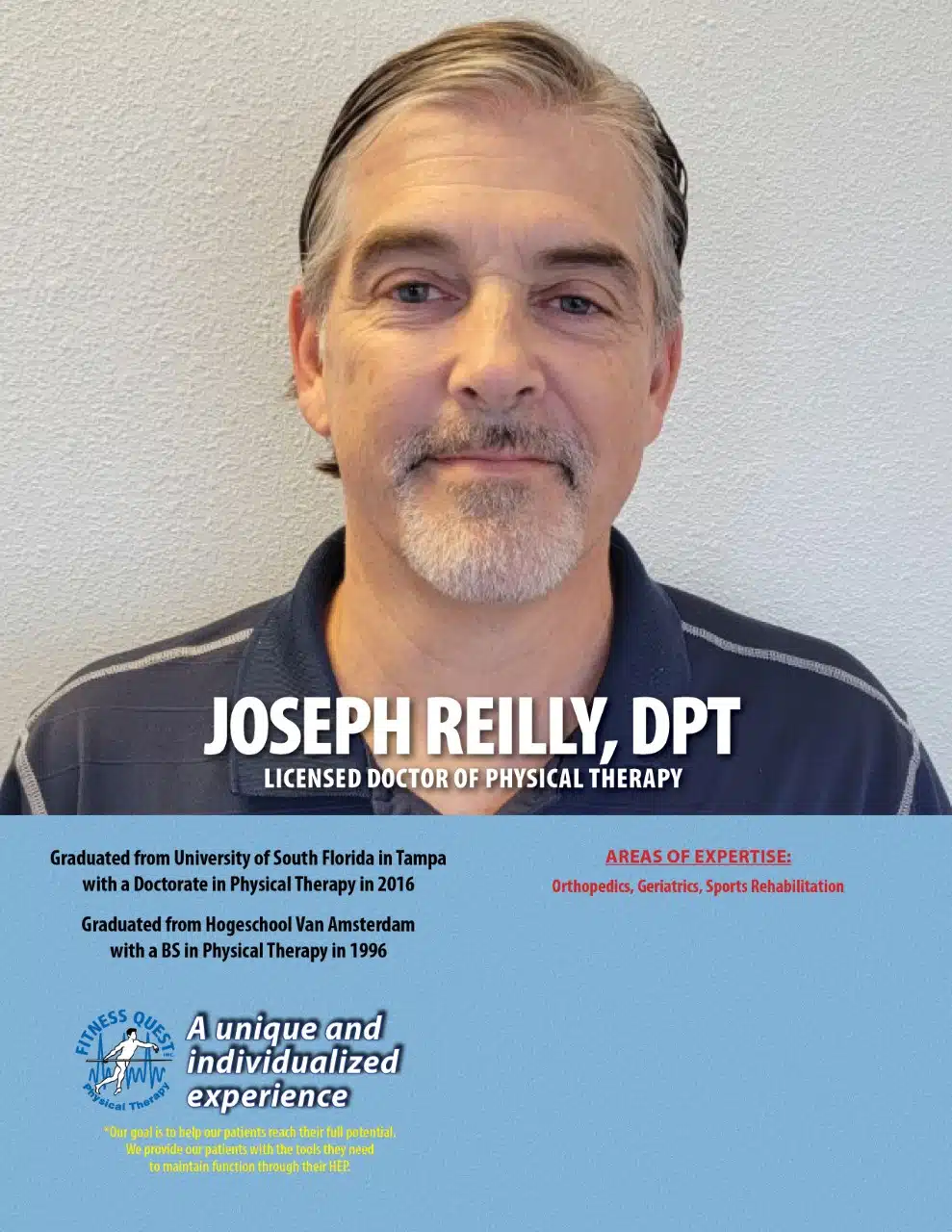 About Our Director
Joseph 
Reilly
, DPT is a licensed Doctor of Physical Therapy at Fitness Quest Physical Therapy in Englewood, Florida. While born in Plainview, NY Joe has been practicing physical therapy in Florida for 26 years including having his own practice for 22 years in Venice, Florida. He earned his AAS as a Physical Therapy Assistant from Suffolk Community College in NY in 1992 and then went to the Netherlands where he got his BS in Physical Therapy in 1996 at the Hogeschool van Amsterdam.. He then went on to get his Doctorate in Physical Therapy at USF in Tampa in 2016. Joe specializes in orthopedic, geriatric and sports rehabilitation and has had the pleasure of working with professional athletes all the way down to liitle league. He has had the privilege to help some of Venice's incredible athletes get back on the playing field. Whether you are an elite athlete, weekend warrior or recovering from surgery, Joe takes pride on an individualized approach to address your needs so you can optimize your functional outcomes through evidence-based practice. Joe has also been very active in the community through the years as a little league coach and a board member for Venice Little League. When he is not at Fitness Quest, you can find him at a spring training game with his family or watching his youngest son play baseball.