Fitness Quest Physical Therapy-Sarasota (Palmer Ranch)
Palmer Ranch Office
Call 1-941-361-9020
Fax 941-217-4038
8588 Potter Park Dr
Suite 201
Sarasota, FL 34238
Hours of Operations
Mon – Fri — 8:00am – 5:00pm*
Saturday — Closed
Sunday — Closed
*Early and Late hours may be available upon request.
Fitness Quest Physical Therapy-Palmer Ranch
About Our Location
Fitness Quest in Palmer Ranch is our brand new location opened in January of 2017! We are happy to be able to provide service to the residents of South Sarasota and the surrounding areas.  Our office is located in the Executive Center across the street from the Potter Park YMCA.
Physical Therapy Director: Scott Porter, PT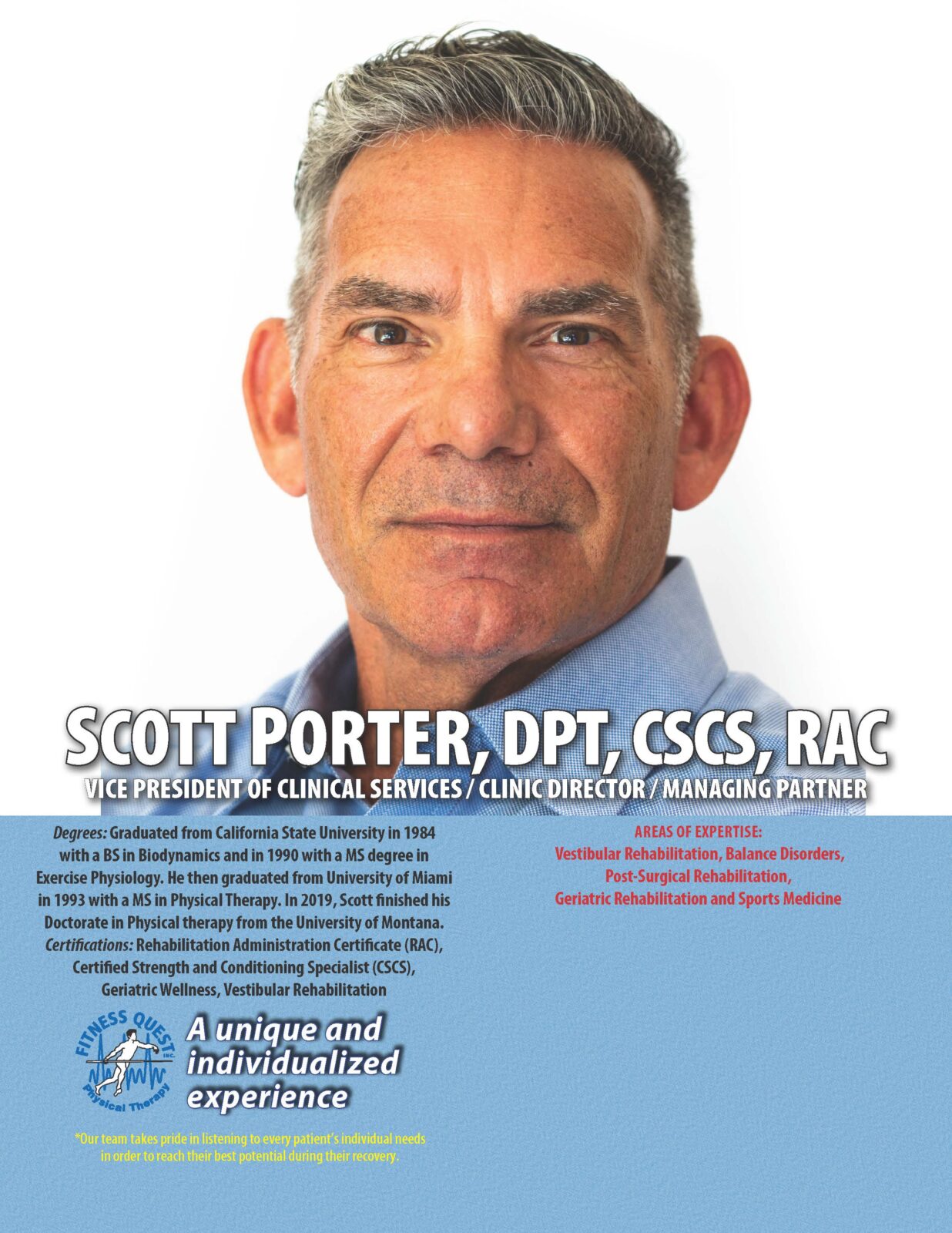 About Our Director
Scott Porter has practiced physical therapy in Sarasota for over 20 years. Scott's formal education began at California State University, Sacramento, for undergraduate and graduate school in exercise physiology. In 1993, he added a Master's degree in Physical Therapy from the University of Miami. Scott also became a Certified Strength and Conditioning Specialist issued by the National Strength and Conditioning Association.  Scott's early career focused on sports medicine, where he had a chance to work with professional athletes from the Miami Heat and Cincinnati Reds. Today, Scott often treats active older adults to improve their lifestyle. Consequently, Scott's approach toward rehabilitation is to improve his client's function and safety through enhancing one's endurance, strength and coordination. In addition to his sports medicine background, Scott has accumulated a wide array of expertise in treating orthopedic and neurological disorders for people of all ages. Scott has completed continuing education in the areas of geriatric rehabilitation, vestibular rehabilitation and fall prevention.
Scott is excited about returning to the Palmer Ranch location across from the YMCA to reconnect with his former patients and referral sources. He welcomes you to stop by to say hello!
Assistant Physical Therapy Director: Elise Falzone, PTA