Fitness Quest Physical Therapy-Boca Grande
Hours of Operations
Our Boca Grande location will be closed for the season, effective May 25, 2023.  If you would like to continue to be seen during this time we will gladly accept patients at our Englewood office located at 2828 S. McCall Rd Ste 25, in the Tiffany Square Plaza. We look forward to seeing you all in the fall!
Fitness Quest Physical Therapy-Boca Grande
About Our Location
Fitness Quest Physical Therapy of Boca Grande opened in November of 2007. Our goal is to provide outstanding and convenient therapy to the residents and guests of Boca Grande without having to leave the island! Our office is located at the back side of the Annex Building across the street from the Boca Grande Health Clinic at the corner of 3rd St West and Park Avenue.
Physical Therapy Director: Denise Elliott MPT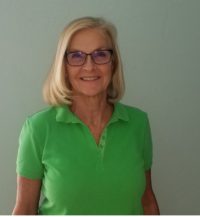 About Our Director
Denise Elliott, MPT is the Clinical Director for Fitness Quest Physical Therapy in Boca Grande, Florida.  Denise grew up in Silver Spring, Maryland.  She attended the University of Maryland and Shenandoah University, where she obtained her Master's Degree in Physical Therapy in 1996. She worked in out-patient orthopedics in northern Virginia and Charles Town, West Virginia for 20 years.  While working in northern Virginia Denise taught classes in "Avoiding Lower Back Pain" and "Fall Prevention".  In May 2008, she obtained her certification in the Mechanical Diagnosis and Therapy of the Spine (MDT) from the McKenzie Institute.  She maintains her McKenzie certification with continuing education courses for the spine and extremities.  She has also completed continuing education courses in vestibular rehab, fall prevention and geriatric rehab. Denise moved to Florida in 2016 and joined Fitness Quest in October.  Denise's approach toward rehab is to provide quality, individualized treatment through utilization of manual techniques, therapeutic exercise, and patient education to restore functional mobility.  When not working Denise enjoys spending time with her family and friends, swimming, biking, hiking, and exploring Florida's Gulf Coast.